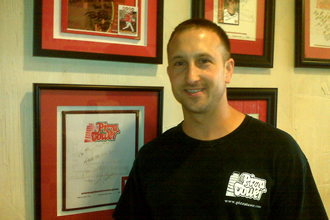 "

For each $100 we spent with TextMarks, we got $2,000 back in new orders.

"
Pizza Tower
Cincinnati, OH
Who They Are
Pizza Tower is a family restaurant located in Cincinnati, Ohio. They started sending SMS coupons to customers a year ago to help drive more business.
What They Did
When customers sign up to receive SMS coupons on their cell phones, they get a free dessert.
What Happened
Pizza Tower gets at least 30 to 40 more orders each week from SMS coupons - twice as many as from email promotions. Customers love them!
"

Text coupons bring us twice as much business as emails!

"
Step 1: Create a group name for your restaurant.

For instance, SFPIZZA. Your group name is what your customers subscribe to so they can start receiving your text messages.

Step 2: Ask customers to sign up.

Put this on your table tents, website, or receipts: "Want a free dessert? Text SFPIZZA to 41411 to start getting our coupons and promotions!"

Step 3: Send offers via text messages.

For instance: "Call 415.555.1212 to order a 2-topping pizza for only $10.99. Offer expires 11/7/2010."