If you don't have an account yet, you can sign up for a free trial here.
TextMarks provides access to the shared shortcode 41411. Mobile phones can send to and receive text messages from shortcodes just like regular 7 or 10 digit phone numbers, but shortcodes are easier to remember and use.
All of your messaging must take place in the context of a keyword "group". To identify your group on our shared shortcode, register a keyword for your users to use when texting 41411. Your keyword is a bit like a domain name and should be short and meaningful. Some examples: JMCYOUTH, DALIS, KERNSON4TH, MRJONESP4... (You would tell people to "Text JMCYOUTH to 41411 to join our group")
To register your group keyword, make sure you're logged in to www.TextMarks.com. Then go to your dashboard and click on the "Make New Group" button, type in your keyword, and assuming it's available, it's yours!
Next go to the Subscription Settings panel for your keyword: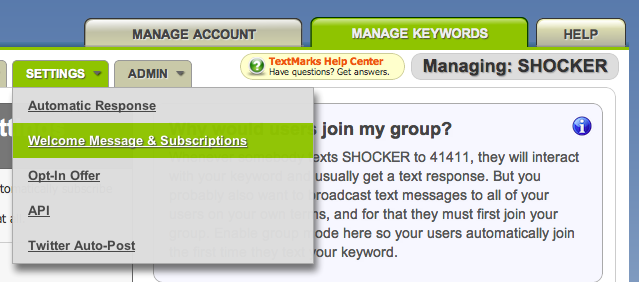 Make sure "automatic" subscription is enabled so that anybody who texts your keyword to 41411 will be subscribed your group. You can also optionally set a welcome message on this page that new group members will receive. Try it yourself from your phone.
NOTE: To unsubscribe from all keywords, anybody can text the word "STOP" to 41411. You can also unsubscribe from a specific keyword by texting "UNSUB KEYWORD" to 41411.
NOTE: In addition to the welcome message, you can also enable an automatic response (in Settings / Automatic Response). This is useful if you have more information than can fit in the welcome message. Additionally you may wish to send a special message or offer to users as an incentive for joining ("opting in to") your group. If enabled (in Settings / Opt-in Offer), users will receive this special message ONLY the first time they opt in, unlike the welcome message which would be received again if a user opts out and in again.